If you're new to LED lighting or the offroading scene in general, you may be wondering: what are ditch lights? LED ditch lights are given their name because they typically light up the ditches next to your vehicle as well as the road ahead. Ditch lights are usually mounted at the bottom of the windshield near the edge of the hood using mounting brackets, but can also be mounted on roof racks and bumpers. Check out our category of vehicle specific ditch light brackets for more mounting options.
What is an LED Ditch Light?
LED ditch lights are usually low profile LED light pods, much smaller than LED light bars. This is to prevent any obstruction of vision while on the road. You will sometimes see ditch lights mounted at a 45 degree angle, this is to improve the driver's peripheral vision while driving. We also offer LED ditch lights with side shining and forward shining light to avoid the need to angle the ditch lights.
Ditch lights can be extremely beneficial if you are planning to use them for off-roading. Night trails can be difficult as it is, especially if you're following a narrow or advanced trail. Ditch lights can help prevent accidents by increasing visibility of obstacles, trail markers, and even wildlife
Speaking of wildlife, if you live in a rural area or somewhere where you pass through rural roads and the back country at night, ditch lights can help you see wildlife and hopefully avoid any collisions. Many car accidents are caused by deer and other wildlife and can be a very expensive fix on your vehicle. Ditch lights can help you avoid these accidents and save your expensive rig and maybe even a life!
Improving visibility on the side of your vehicle can be beneficial for commercial drivers as well; ditch lights help many professional drivers navigate through narrow and poorly lit areas every night. Our LED ditch lights are also affordable and easily installed, meaning you don't have to miss any time on the road.
Now that you understand more about the purpose and function of LED ditch lights, you may be asking which LED lights will work as ditch lights. The main thing to look for when shopping for ditch lights is the angle of light output. The larger the degree, the wider the light will spread. Here are some of our favorite choices for LED ditch light pods.
Our side shooters are definitely a favorite for ditch lights due to their front and side lighting in a single pod. Each pod features 6 forward facing LEDs in spot pattern, 3 side facing LEDs in flood pattern and over 3,000 lumens. The side lighting is only one side of each pod so as to not cause hood glare; this set comes with a pod for the driver's side and one for the passenger's side. With our Side Shooter LED Light Pods, you get the best of both worlds: forward driving lights and side flood lighting!
Our Stackerz Kits are the perfect choice if you're looking for a unique look or a specific fit. These modular LED light pods are only 2-inches and can be installed separately or assembled together, making them extremely versatile. These can be configured into a light bar of any size or shape! Assemble multiple Stackerz Pods together in a row or column with the connector kit and a pair of the "L" mounting brackets.
These pods are made of rugged aluminum and feature a high output single LED, meaning you don't have to sacrifice light output for such a small package. Plus, with the option of spot or flood lenses in amber, white, red or green color, the custom possibilities truly are endless.

Our Extreme Series are some of our most popular light pod series for multiple reasons. These light pods feature optics that couple with an internal reflector to focus all the light onto the magnifying lenses to eliminate internal loss of light and increase overall light output.
These pods are a great choice if you're looking to match your pods with your light bar as we have so many options. We even have low-profile Stealth pods that give a smooth, sleek look. Choose from flood or spot pods, flush mount or regular mount, and amber or white to find the perfect pods for your rig.
In our opinion, scene lights can be some of the most handy lights to have on your vehicle. This is due to their widespread output of light. Our scene lights have a 120 degree beam pattern for wide, even light.
Though typically used for camping or general lighting at a worksite, scene lights are often used as ditch lights while offroading as they really help light up everything around you. Plus, at just 5 or 10 watts, these lights are very efficient in preserving your battery life when you're off the grid!
These pods are a perfect option if you're wanting a sleek look with a little extra protection from rocks and branches. When things get crazy on those night trails, the last thing you want is to lose a light! The rugged housing and caged lens help to protect the light against large debris, making this the perfect light for anything from offroading to camping.
Another reason many people add a pair of these to the hood of their vehicles is to increase safety at the workplace! This light also has a blue center light that can be used for daytime and nighttime and the caged lens cover is detachable, making the versatility the perfect light for any jobsite.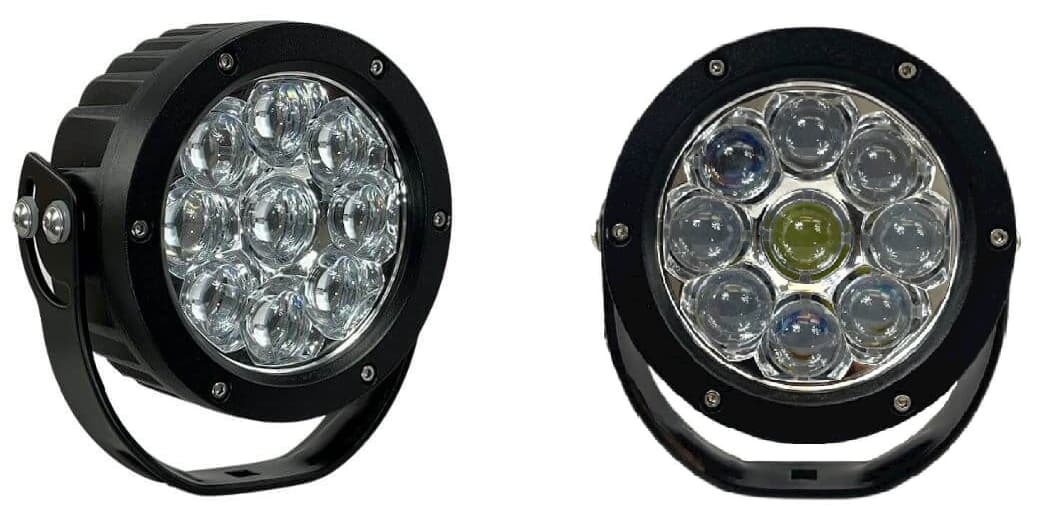 Looking for a round light with a bit more "oomph" than the previous light pod? Well these lights may be the missing piece you've been looking for! With 45-watts per pod, these lights are the perfect addition to any build that needs just a bit more light output than the typical small LED pod.
The powerful punch in the small package makes this light great for mounting where space is tight, but you still need a powerful light.
Looking for something for the front of your vehicle? Check out our selection of LED Rally Lights.
Rally lights are larger than standard light pods and are typically mounted on the front of your vehicle (depending on size/build). These are commonly mounted in a row of four or more but even adding a single rally light to your vehicle will greatly improve your light output.
Rally lights provide more placement options and customizability than a light bar while still providing an impressive amount of light. Whether you're looking to add lights to your truck, side by side or ATV, when it comes to versatility of different types of vehicles, it's hard to go wrong with rally lights.
No matter which LED Ditch Lights you decide on, we've got you covered with our free returns and lifetime warranty. We hope this helps explain the purpose of ditch lights, however, don't hesitate to reach out if you still have questions! If you would like 4 lights to be used as ditch lights (2 on each side), you can use our ditch light bracket extensions to install 2 lights on one ditch mount. These paired with our harness to control 4 lights on one switch make your install easy as can be! If you're looking for the best LED light pods at the best price, shop with Extreme LED!
Meet the Author: Extreme LED has been helping offroad enthusiasts with their LED lighting needs since 2011. We have built our company to provide you with the best experience from shopping to customer support and ultimately use and longevity of our products. Our high-performance LED Light Bars & Pods are covered by our Lifetime Warranty and with free shipping over $100, you can rest assured that you are getting a high-quality product that will provide long-lasting lighting for your vehicle.